The British-American actress Elizabeth Taylor became just as well known for her string of marriages as her films. After finding herself thrust into the spotlight from a young age, she was forced to become wise beyond her years after starring in romantic films with actors far older than she was. That accelerated path into on-screen romance influenced her real love life too, providing a yearning that kicked off the string of matrimonies.
I was then and am now an incurable romantic.

Elizabeth Taylor, written in 1988
Conrad "Nicky" Hilton (May 1950 – Jan 1951)
I am sorry that I did not fully understand the reasons driving me into early matrimony. At the time I just knew I ached to become a real woman, a wife.

Elizabeth Taylor on her first marriage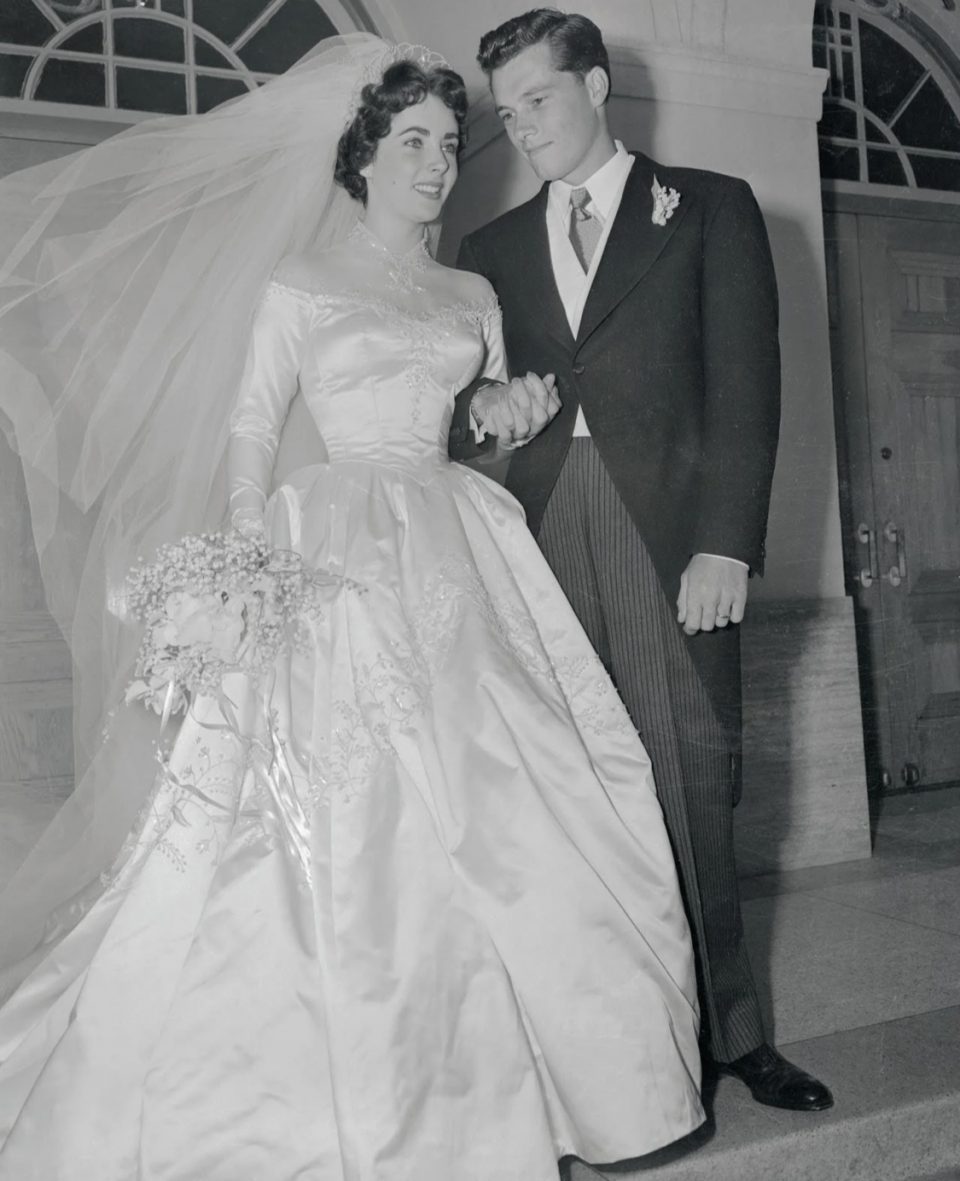 Although Elizabeth Taylor got married a total of 8 times, she would only wear the traditional wedding dress once. This was for her first wedding at just 18 years old, when she was the MGM Studio darling on the 6th May 1950 to Conrad "Nicky" Hilton after they met in October 1949 at the Mocambo nightclub in Los Angeles.This full skirted dress with its nipped in waist and was elaborately covered in seed pearls and lace embroidery. Designed by costume designer Helen Rose, it was funded by MGM and drew inspiration from the one Elizabeth Taylor wore onscreen in Father of the Bride and is said to have taken 15 people three months to make. This wedding dress went down in history as the epitome of 50s glamour and Rose later went on to design Grace Kelly's dress for her wedding to Prince Rainier of Monaco.

Michael Wilding (Feb 1952 – Jan 1957)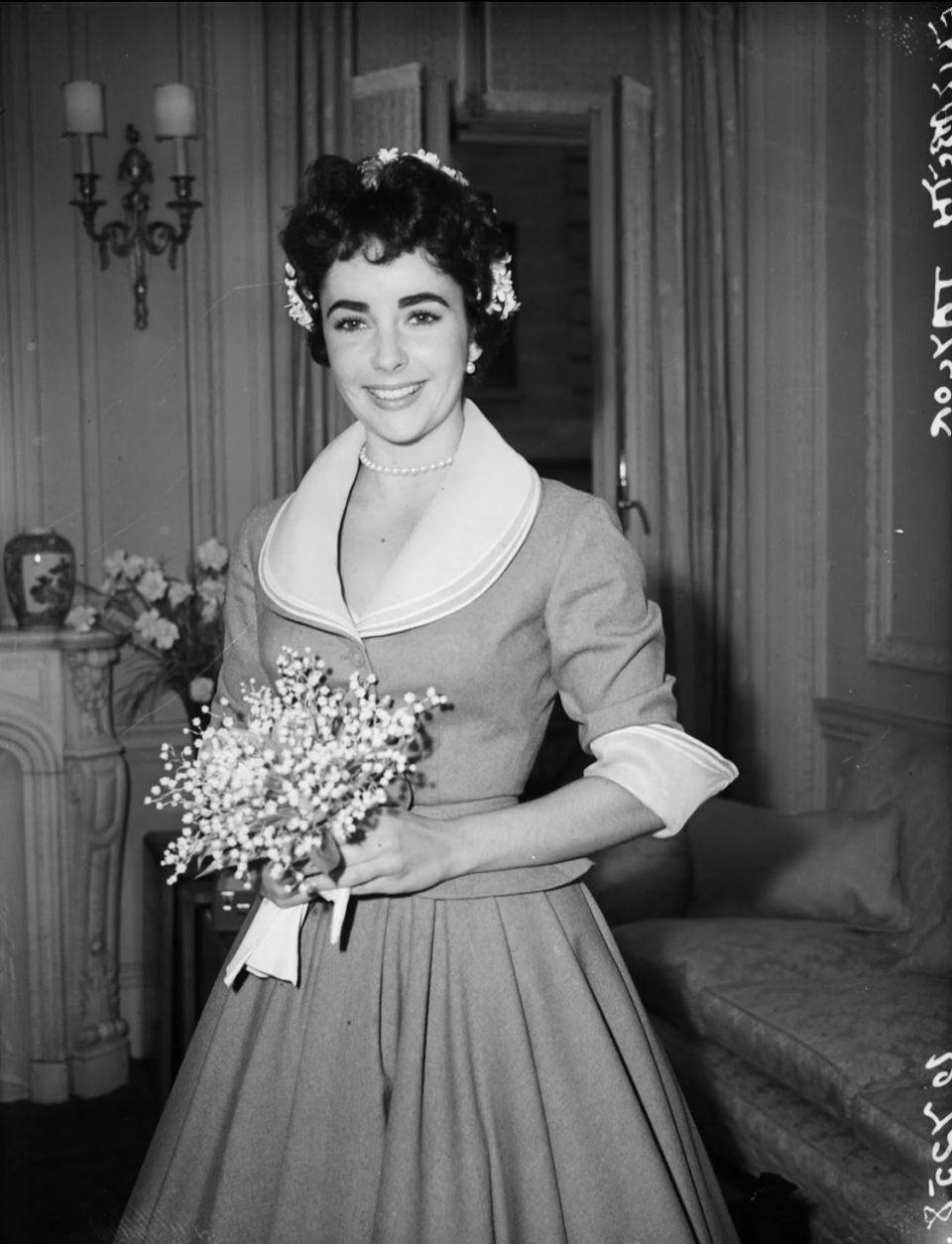 For her second marriage to British actor Michael Wilding on the 21st February 1952, Elizabeth Taylor would once again use Helen Rose again to design her outfit. In contrast to her first wedding, she went against tradition and opted for an colourful a-line suit with a white collar for the nuptials. A posy was carried and matching flowers worn in her hair instead of a veil, along with a modest pearl necklace to accessorise. Her sapphire engagement ring was a sapphire which also set trends. After being married for 5 years and having two children, the marriage ended in divorce as Elizabeth's career skyrocketed.
Mike Todd (Feb 1957 – Mar 1958)
I was the happiest with Mike Todd

Elizabeth Taylor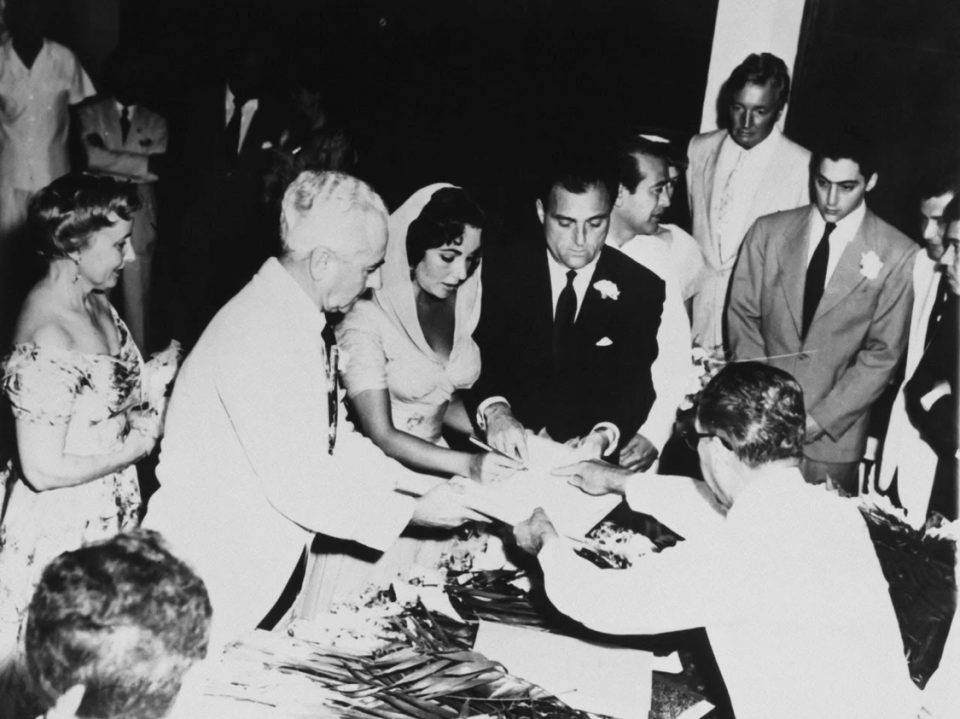 On the 2nd February 1957, Elizabeth married her third husband, entertainment producer Mike Todd in a small ceremony in Mexico and she was already pregnant with their daughter Liza. On this occasion, she worn a floating, white silk chiffon gown with a dramatic sweeping hood. The star of the show was perhaps her engagement ring, a emerald cut diamond which she affection at Ely called her "ice skating rink" for its elaborate size and carats (29.4). Todd was known to shower her with gifts, like when he set up an entire display of Van Cleef & Arpels jewellery in their yard or had a romantic meal flown in from Paris. Tragically this marriage would end when Todd was killed in a plane crash in 1958. Elizabeth was supposed to travel with him, but had opted out due to a cold.
Eddie Fisher (May 1959 – Mar 1964)
Our honeymoon will last for 40 years

Elizabeth Taylor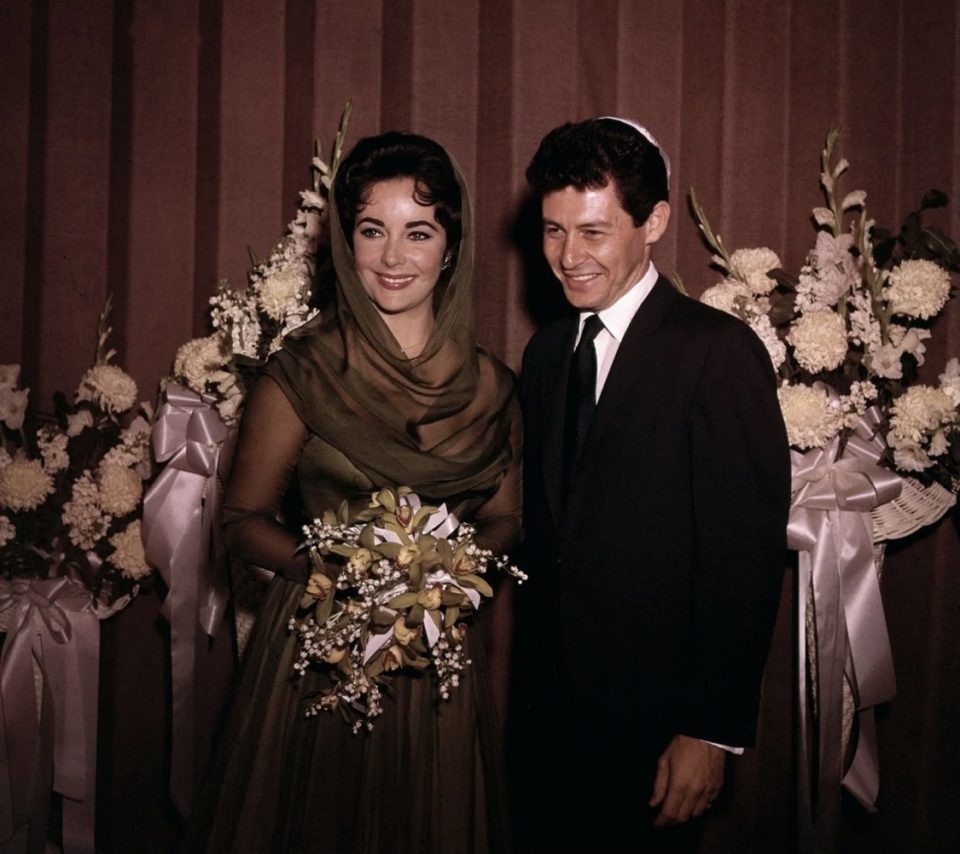 Devastated by the death of her third husband Mike Todd, Elizabeth would turn to one of their closest couple friends, Debbie Reynolds and Eddie Fisher, one of the 1950s most popular singers. Both Reynolds and Fisher had been a part of the wedding party at her third wedding as Fisher was her then-husbands best friend. Taylor and Fisher soon started an affair and after converting to Judaism, she married her fourth husband Fisher, on the 12th May 1959. Another hooded dress was worn, but this was a deep green colour which had sheer sleeves, and was fitted at the waist before falling gracefully into a full skirt. This was accessorised with a bracelet made with 50 diamonds totalling 40 carats given to her by Fisher instead of an engagement ring.
Richard Burton (Mar 1964 – June 1974)
When I saw him on the set of Cleopatra, I fell in love and I have loved him ever since, practically my whole adult life.

Elizabeth Taylor on Richard Burton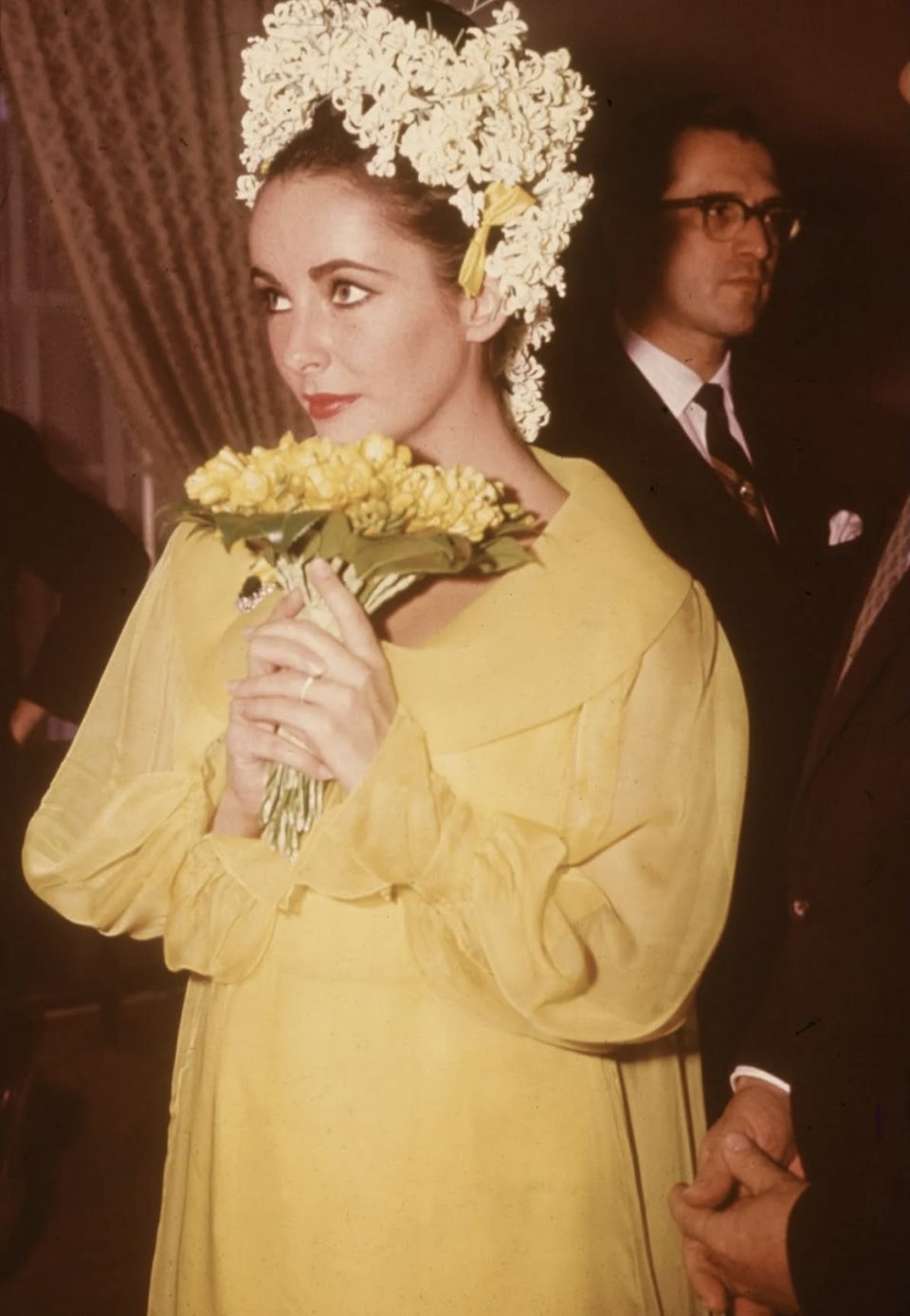 On 15th March 1964, Elizabeth Taylor married her Cleopatra co-star Richard Burton, after reconnecting with him on set as they had met at a party around a decade earlier. Once again traditional wedding traditions were subverted as she opted to wear a marigold yellow, knee length, empire line dress by another costume designer Irene Sharaff who worked on the costumes for Cleopatra. Her hair was an elaborate ponytail which was braided and laced with orange blossom, lily of the valley and white hyacinths and an engagement ring was replaced with a Bulgari brooch gifted to her by Burton. Five years into this marriage, Burton would give her one of the most renowned diamonds in the world, the asscher-cut Krupp Diamond, now known as the Elizabeth Taylor Diamond. It was a whopping 33.19 carats and she is rumoured to have worn it daily.

Richard Burton (Oct 1975 – Aug 1976)
Even when we could no longer live together, we continued to love one another. To this day, my feelings for him are so strong that I cannot speak about him without being overcome with emotion.

Elizabeth Taylor in 1988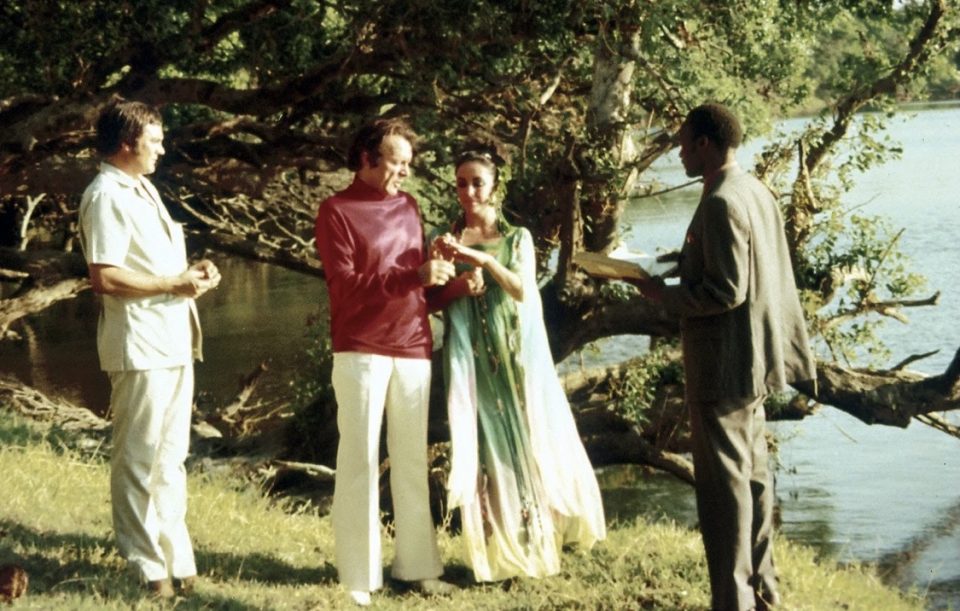 Elizabeth Taylor and Richard Burton would wed again on the 10th October 1975 in Botswana. An ombré rainbow dress embroidered with small feathers by British designer Gina Frantini was chosen with her hair piled on top of her head in a feather adorned updo.

John Warner (Dec 1976 – Nov 1982)
I found her very interesting, fascinating. She is a great conversationalist, and she is just a lot of fun.

John Warner on Elizabeth Taylor
For her most private wedding to her 7th husband, senator John Warner on the 4th December 1976, Elizabeth Taylor's wore a violet cashmere dress, along with a tweed and fur coat and matching turban. The two first met at a Washington DC dinner for Queen Elizabeth II when Warner was asked to escort Taylor. Even though they were both from different political leanings, they connected, especially over a mutual love of horses. They remained friendly until her death in 2011.
Larry Fortensky (Oct 1991 – Oct 1996)
She was funny and sweet, and the more I got to know her, the sweeter she became… we had an instant physical attraction.

Larry Fortensky on Elizabeth Taylor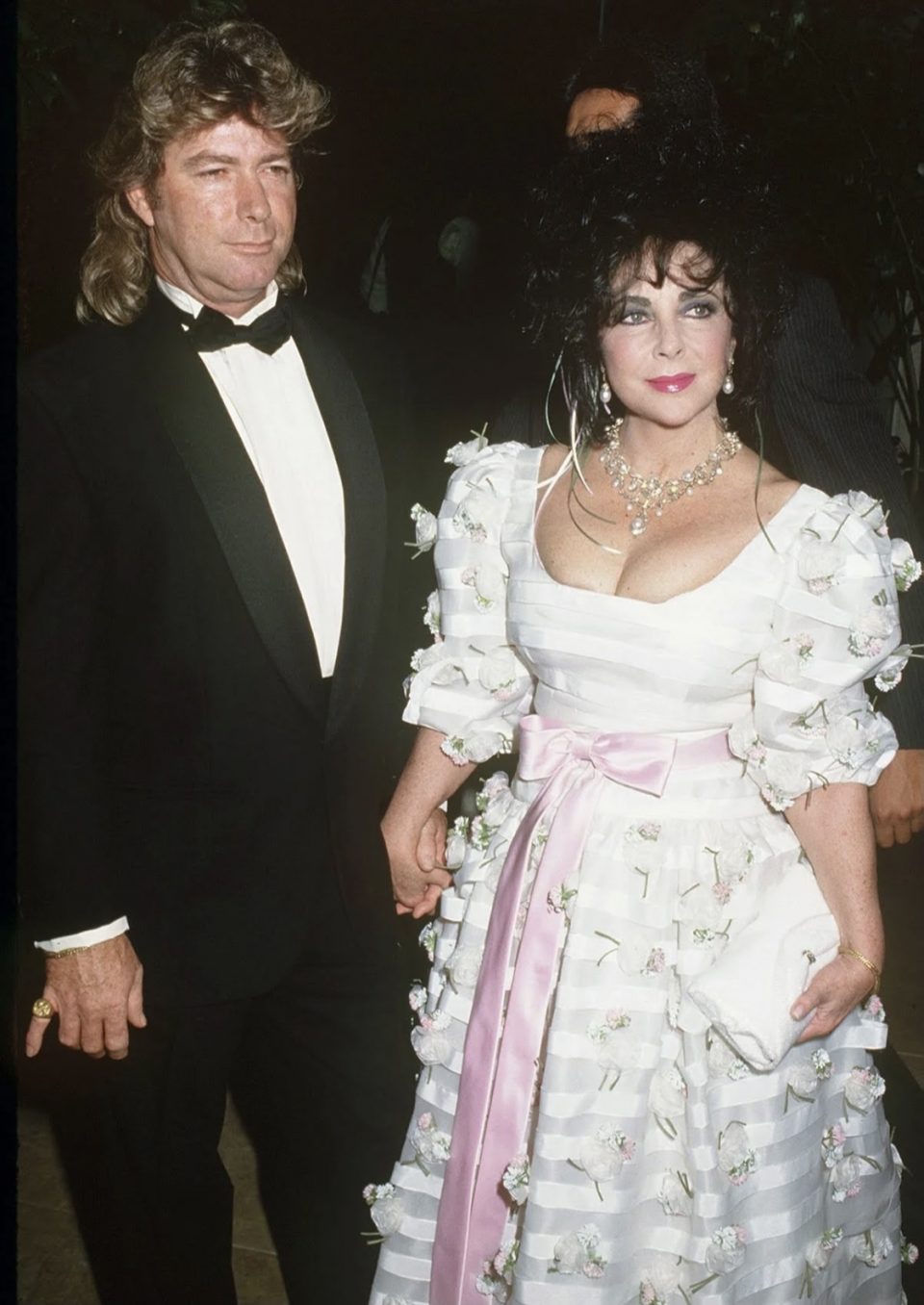 Her final marriage was to a construction worker she met during her time in rehab at the Betty Ford Clinic in 1988. At a lavish celebrity filled celebration on the 6th October 1991, Elizabeth Taylor would marry Larry Fortensky at Michael Jackson's Neverland ranch. Wearing a bespoke, lemon hued, Valentino lace gown which featured a tiered skirt and plunging neckline the rights for photography were sold to People for £758,000, providing funds to launch the Elizabeth Taylor AIDS Foundation. While they had happy and playful moments ultimately the spotlight was too much. After divorcing, they remained Ain touch for the rest of her life.