Hello my darlings,
I thought after writing my last post about Dior a couple of months ago that I would continue and share with you my knowledge on the History of Pierre Cardin. I've found that learning a little more about the history of the clothing back in the 1950's has helped me when on the look out for thrifted styles, so I hope you find it helpful too.
I know that these days, the Pierre Cardin label is more known for endorsing pretty much anything, but decades ago he was a very important designer.
History of Pierre Cardin
Born in Venice, Italy in 1922 he eventually moved to Paris in 1945 (both of his parents were French). Beginning his career early, at age 14 Cardin worked as a clothier's apprentice, learning the basics of fashion design and construction. In 1939, he left home to work for a tailor in Vichy making suits for women. After spending the war working for the Red Cross, he worked closely with Paquin and studied architecture. Becoming the head of Dior's Tailleure Atelier in 1947 after working with Elsa Schiaparelli; Cardin was denied work with Balenciaga and so founded his own house in 1950. Situated at 10 Rue Richepanse, Cardin started his House designing masks and costumes for theatre including Jean Cocteau's production of Beauty and the Beast."
His own fashion house in Paris
Pierre Cardin soon built up a client base. Christian Dior sent roses as a congratulations, but more importantly, directed his overflow clientage to Cardin's new business.
His career was launched to new heights when he designed around 30 of the costumes for the "party of the century" at Carlos de Beistegui's Palazzo Labia in Venice in 1951.
In 1953, Cardin began to work on haute couture, and was well-known for his "space-age" avant-garde style. He often ignored the female form, choosing to focus on geometric shapes and motifs. The "bubble dress" released in 1954 was a resounding success worldwide. The style is still popular today: a looser fitting dress is cinched in at the waistline, broadens out over the hips and is brought back in at the hem again creating the infamous "bubble skirt". At this time, he also became a member of the Chambre Syndicale, a French association of haute couture designers and opened his first women's boutique called Eve.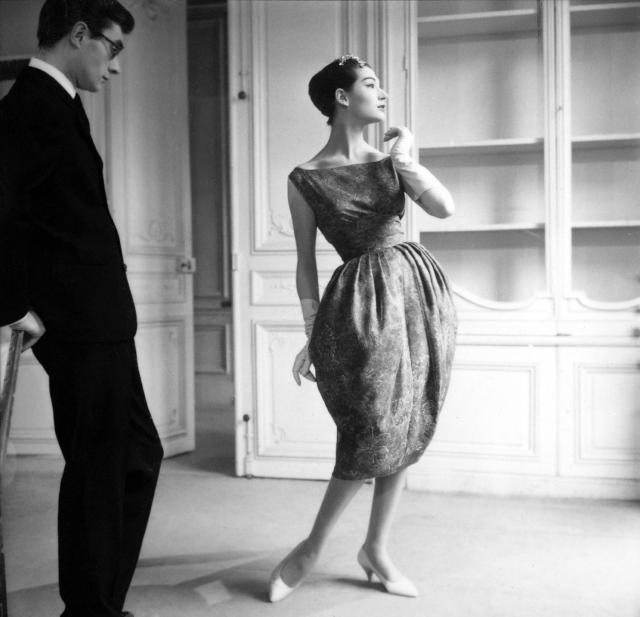 Honory Professor of Bunka Fukusoi
In 1957, Cardin was looking outside of Paris for inspiration. Visiting Japan for the first time, and becoming one of the first Western designers to seek out Eastern inspiration and influences, he was made honorary professor of Japanese fashion school Bunka Fukusoi and taught a one month class on three-dimensional cuts. Pierre Cardin opened a menswear boutique in Paris in 1957, called Adam. Selling new informal mens clothing like collarless jackets and roll neck jumpers. These collarless suits went on to inspire the Beatles' later stage costumes.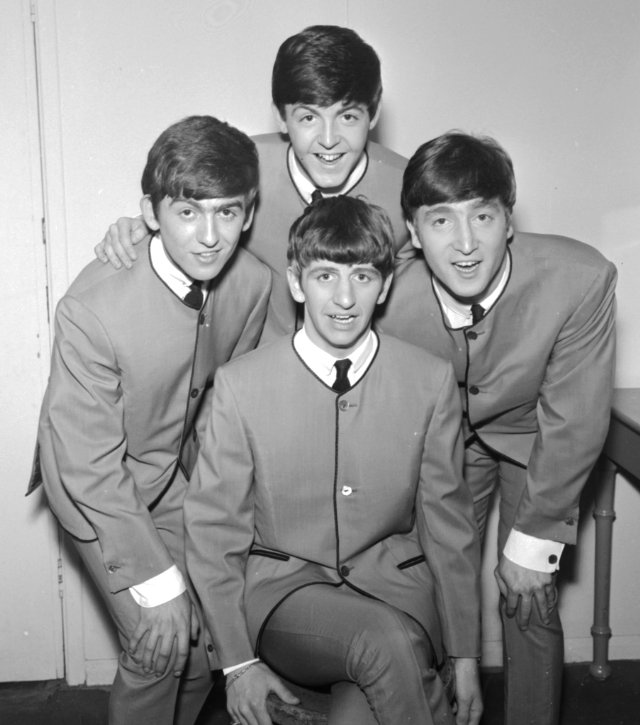 Most of Pierre Cardin's early designs were day suits and coats with raglan sleeves, dresses with front defined waists and Wattau backs (this would directly inspire the "sack-line") along with tulip shaped skirts, boxy waists and rolled or scarf-tied collars. Coats with draped hemlines, bubble skirts and unstructured chemises also featured heavily. Trained as a tailor, his collections perfected immaculate and sleek lines giving his clothing a feel of science-fiction and space travel.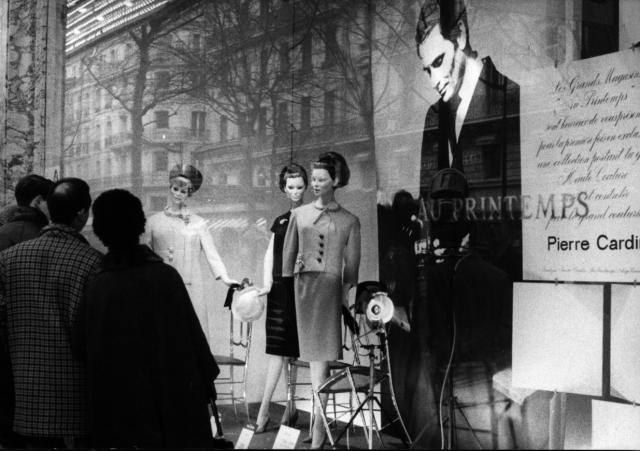 Expelled from the Chambre Syndicale
In 1959, Pierre Cardin released a ready-to-wear collection for the Printemps department store in Paris. This resulted in him being expelled from the Chambre Syndicale for a short period. The collection itself, features his signature features. Asymmetrical necklines, scalloped and rolled edges and enormous face framing collars, all of which were revamped for every season. Trapezium-shaped coats topped with sugarloaf hats also appeared at this time, extending the line by almost 18 inches above the head.
Outlandish & Futuristic, Understated & Refined
Although Cardin had many outlandish and futuristic designs, he was also a master of understated and refined clothing lines too. The fanned, face framing ruff collar (left) was a clever use of the coat's cartridge pleated yoke top, and the sophisticated, short evening gown (right) was a clever use of pleating to shape and create interest to the front of the garment.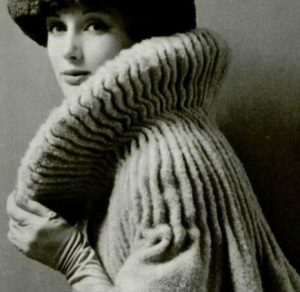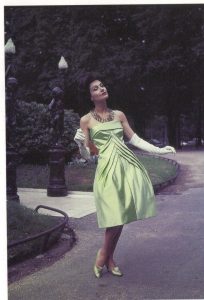 Pierre Cardin went on to have a profound influence on fashion after this, which I will touch on in another post. There are so many different styles and designs out there for the 1950's and I find it so interesting to see what each notable designer came up with during that period. If you would like me to feature a particular designer, then please email me at [email protected]
I hope you enjoyed this post about the history of Pierre Cardin, to keep up to date with me, why not follow me on Twitter, Facebook and Instagram? I also have a few inspirational board for vintage style on Pinterest, why not check that out too?
Until next time,